World Book Day at Whitcliffe Mount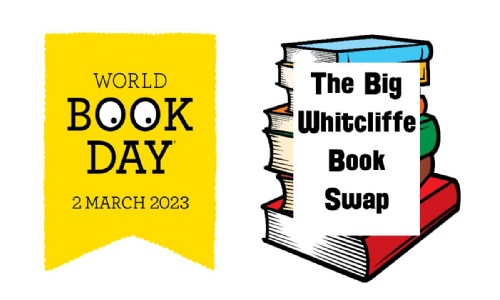 In honour of World Book Day on Thursday 2nd March we will be celebrating books and reading all week from the 27th of February. Read on to find lots of fun ways students and teachers can get involved.
There are lots of exciting ways to get involved with World Book Day at Whitcliffe Mount:
Scanning the QR code for a special World Book Day voucher, to exchange for one of the mini-books available at participating bookshops and supermarkets, or for a £1 discount off a book of their choice. The code is attached below, and paper copies are available on request from the Learning Resource Centre.
Enjoying reading aloud during form time on World Book Day itself. Everyone loves to listen to a story!
Taking part in the Big Whitcliffe Book Swap: staff and students are invited to bring a book they no longer want (with permission from parents/carers in the case of students), to swap for someone else's pre-loved literature. This is a great way to try something new for free and is a wonderful form of recycling too; families are welcome to send more than one book, as a way of passing them on to new readers. Swapping will take place from 27th February to 3rd March, in the LRC.
Entering our latest creative writing competition. The challenge this half term is to write the start of a book, and make the judges want to read on! Students can write in any genre, but their book beginnings should be no more than two pages of A4; last date for entries is March 31st.
We'll be tweeting about all our World Book Day fun. Why not join in, by tagging @WMount in your own World Book Day linked tweets? We would love to see what books and reading Whitcliffe families are enjoying!